Purchase Tips for New Frenchie Parents:
Shopping Clothes for French Bulldogs Could be A Happy Experience and Welcome to Join Frenchiely. All Our Pet Clothes are Designed & Made with love.
This Article is for New French Bulldog Moms or Dog Parents Who Had Trouble with Finding Suitable Dog Clothes for Their French Bulldogs.
TIPS FOR NO TIME TO READ THE LONG ARTICLE:
Write down your order note right below the SHOPPING CART (Include Frenchie's age, chest girth, back length, neck girth) then leave it to us to double check before shipment.
For a Full-Grown French Bulldog:
STEP 1: Measure Your French Bulldog's Chest Girth & Neck Girth with SOFT TAPE,Like Below. NOTE: Weight Might Be inaccurate. Measure right underneath your pups armpits and go around the largest part of their chest. As each dog is completely different, please measure your dog and refer to the sizing chart on the product page.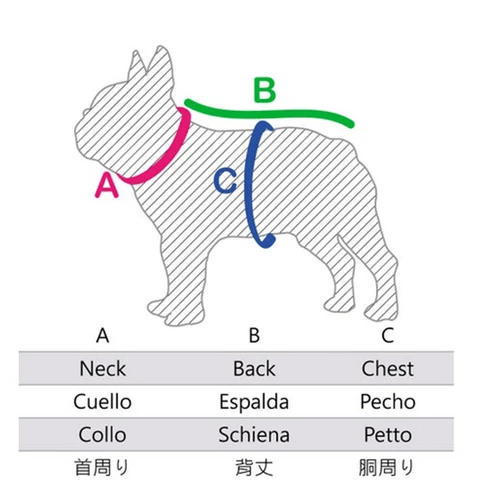 STEP 2: Choose Your Favorite Dog Outfits and Refer to The Size Chart Below Product Description. NOTE: If Your Frenchie is Between 2 sizes, Choose the Larger One. Also if the fabric is super stretchy, you can choose the smaller size for the perfect fit, but if you prefere a loose style, go the Large one. 
Purchase for A French Bulldog Puppy
If You Already Had Your Frenchie Home, That's Great. All You Need to Do is Measure Your Pup with SOFT Tape and Refer to Our Size Chart (Below Product Descriptions) There Might Be Size Differences Due To Different Cuts & Fabric, You Need To Refer To Each Single Size Chart Before Add To Cart.
You Have Not Pickup Your Frenchie Yet and Do Not Have Exact Size Details?  
No Worries, Let's Start from the Size 'M' or 'L' First 
IMPORTANT: Pups Grow Fast, Please Buy 1 or 2 Size UP at Least to Make Sure They Have Some Grow Space.
If you want to purchase a dog clothes for their full-grown age ( Chest Size for a Standard Full-Grown Frenchie is about 20"- 23") XL, or 2XL would be the right choice.
Still, Worries About Size?
You May Start to Purchase 1 First to Try On and Let's See How Does it Fit Your Frenchie before Ordering More Clothes.
What to Order for My Frenchie?
We Would Absolutely Suggest You Start from Dog Pajamas Collection First, Keeping Their Tummy Warm in Cold Weather with Soft and Comfy Clothes, Especially During Night Sleep is SUPER Important.
Or Most French Bulldog Owners Bought and Highly Rated Collection: 
Find Suitable and Cute Dog Apparel for French Bulldogs That Could Be So Easy with These Steps, Still Have Concerns About Sizes? Check Our FAQ Page Here: FAQs
Or Email us frenchiely@hotmail.com or Messenger Us Directly.